If you're fed up with re-staining your wood fence for the last time, but you're loathe to give up the natural appearance your wood fence provides, it might be time to consider Trex. With Trex Fencing, you won't have to worry about termites, rotting, warping, or splintering. What's more, instead of spending your summers repainting or restaining your fence, you'll spend your time admiring it's low-maintenance beauty.
What's Trex Made of Anyway?
Trex is made with a combination of wood and plastic fibers which are acquired from reclaimed or recycled resources. In fact, Trex Fencing is made of 95% recycled materials such as used pallets, recycled plastic grocery bags, and sawdust. These materials are carefully processed to create fencing that performs better than wood, lowering your cost in the long run due to reduced maintenance. This environmentally responsible product is responsible for keeping thousands of tons of wood and plastic scraps out of landfills each year.
Does Trex Fade Over Time?
Trex is heavily pigmented during manufacturing to allow for a natural weathering process. Generally, after twelve to sixteen weeks of exposure to sunlight and rain, Trex will settle into its weathered color. This process does not affect the durability of your Trex Fence.
How Does Trex Fencing Perform in Extreme Weather Conditions?
Trex Fencing can handle any climate, whether it's hot, dry, humid, or cold. Because of its unique composition of wood and synthetic materials, Trex can adapt to any climate. Keep in mind that It's natural for all composite material to expand and contract with changes in temperature. When properly installed, Trex will accommodate for these fluctuations. Gate hardware can easily be adjusted and may need some fine-tuning with the change in temperatures.
Is Trex Easy to Install?
Trex Fence's innovative design was inspired by a wood board-on-board fence with top and bottom fascia rails, and top cap piece. A popular design among homeowners, it is easy for DIYers or professionals to install. Trex Fencing consists of interlocking pickets, providing a board-on-board appearance without the additional expense for more pickets to achieve the same design. A hidden bracket system hides the fasteners. Trex Fencing is also installed on 8' post centers which reduces additional product cost, as well as additional time on the labor necessary to build fence sections.
Does Trex have a Warranty?
Trex offers a 25 -Year Limited Warranty, one of the strongest in the composite fencing industry. Stonehenge Fence will back this up with a 5 – Year Limited Labor Warranty to ensure that your are satisfied with our products and services. For more information on the Stonehenge Fence labor warranty, please see our Warranty page.  To view information on the Trex warranty or to register your Trex product, please see their website click here.

With Trex, You Get What You Pay For – Quality!
You've heard the saying, "You get what you pay for". The same is true with fencing materials.  With Trex, decreased maintenance costs and increased leisure time equals unparalleled value. In fact, Trex Fencing is often referenced as an indicator of quality and value when selling a home. There's no doubt about it, Trex Fencing will give you all the natural beauty of wood, without all the maintenance concerns associated with the care of wood fences. That's because Trex wants you to spend time enjoying your fence…not just working on it.
If you're considering Trex Fencing, contact the experts in composite fencing materials at Stonehenge Fence. Our experienced installers are dedicated to your complete satisfaction, so you can rest assured that we'll install your Trex Fencing with the utmost care.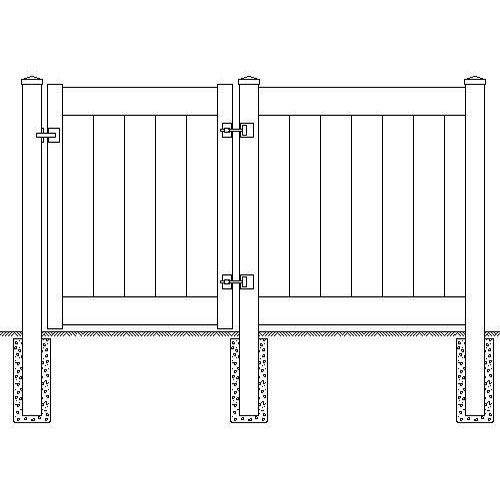 Industry Leading Strength
Lifetime Wind Warranty
Professional Installation
Sprinkler Protection
Quality Assurance
5-star Customer Service