SimTek / Bufftech Fencing
SimTek / Bufftech Molded Fencing
Stonehenge Fence has installed more SimTek fence in Utah than any other fencing installer!
Nothing rivals the aesthetic beauty and durability of stone walls. Unfortunately, few can afford the rising costs of traditional masonry work. That's why the services of companies like SimTek are in such high demand. SimTek Fence has revolutionized the concept of stone fences with its patented, rotationally-molded fencing panels that mimic a realistic stone appearance.
What's So Great About SimTek Fence?
SimTek Stone and concrete fences offer unparalleled benefits when it comes to beautifying and securing homes and yards. The first of these benefits is the patented construction of its product, which is produced with a proprietary polyethylene plastic and reinforced with galvanized steel.
Not only does this material consistently withstand hurricane force winds up to 110 miles per hour, as well as 130 mph gusts, but it even meets Florida hurricane requirements! It can also endure extreme temperatures from -40 degrees to 140 degrees Fahrenheit. This means you can have the peace of mind of knowing that your SimTek Fence can weather any Utah climate or weather, whether you're up in the mountains, down on the plains, or out on the desert.
A valid and common concern of any homeowner is the maintenance of their new fencing system. SimTek Fence isn't just aesthetically pleasing, it's downright durable and easy to care for. Because it contains UV inhibitors, your SimTek Fence will enjoy a lifetime of vibrant color, with zero fading. You will never need to paint or stain it, plus it won't warp, crack or bow. Oh, and if you're worried about graffiti, you can easily wash away unwanted artwork using a high-powered pressure washer.
Many home and business owners invest in a fencing system for privacy or security reasons. Unfortunately, not all fencing materials make the grade when it comes to protecting your home, family, or commercial property. With SimTek Fence, you never have to worry about your privacy or safety. As an added bonus, not only will this solid structure shield you from the unwanted attention of neighbors and intruders, it blocks 98% of direct sound (with a STC rating of 26). For those concerned with protecting the environment, you can rest assured that your SimTek Fence is made with recycled materials that require less energy to produce and reduce waste.
SimTek Warranty
SimTek Fence is backed by a Lifetime Warranty, along with a Five Year Limited Labor Warranty to ensure that you are satisfied with their products and services. The great thing is, you probably won't need it, because SimTek Fence really does stand the test of time. For more information on the Stonehenge Fence labor warranty, please see our Warranty page. For more information on the SimTek warranty, please see their website here.
If you're looking for a natural stone or concrete fence, without the hefty price tag, consider SimTek Fence for it's realistic stone appearance, superior privacy and security qualities, low-maintenance care, superior durability. And remember, an experienced fence installer makes all the difference. That's why you should call Stonehenge Fence today. We've installed more SimTek Fence in Utah than any other fencing contractor, so you can trust us to do the job right.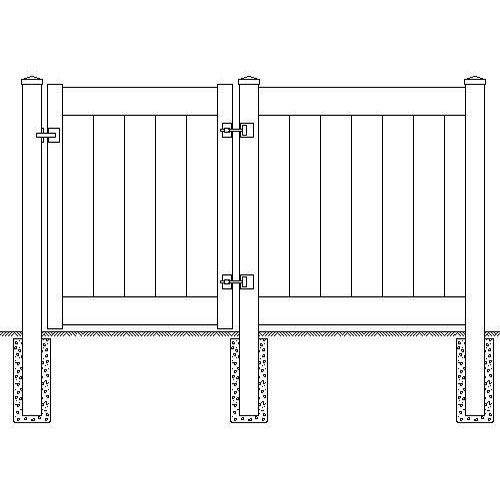 Industry Leading Strength
Lifetime Wind Warranty
Professional Installation
Sprinkler Protection
Quality Assurance
5-star Customer Service