ALUMINUM FENCING
Fencing is an investment you can't afford to make without first doing a fair amount of research. After all, this is a landscape structure you're planning on having around for a long time. So it makes sense that you'd want to select the most attractive and durable materials at the best price possible. If you're looking for fencing that offers a combination of affordability, versatility, and maintainability, you may want to consider Aluminum.
Aluminum is similar in appearance to wrought iron, but lighter in weight, like steel. It is suitable for any land, whether flat or sloped, and has a pliant quality that can easily be adjusted to meet height requirements and building codes.
Cheaper than both steel and wrought iron, aluminum fencing is closer in cost to wood fencing. Plus, with the benefit of being low-maintenance, aluminum fencing is an investment that can save you money in the long run.
While aluminum fencing unquestionably delivers on function, it certainly doesn't lack for versatility. Aluminum offers a wide range of products, sizes, shapes, and designs to complement your home and yard.
Unlike wood, aluminum doesn't require a new coat of paint every couple of years. Aluminum fencing won't rust, either, unlike chain link or wrought iron. Perhaps the best part of aluminum's low-maintenance quality is that fact that it's easy to clean. In most cases, you can simply hose off your aluminum fence with a hose and water. On the other hand, if you've gone several years without giving your fence a good hose down, you may require something a little stronger than water.
Most aluminum fencing materials are produced from recycled aluminum, so they require less energy to make. In addition to being environmentally friendly, aluminum can potentially last a lifetime, withstanding wear and tear better than wood, steel, chain link, and even wrought iron. In fact, many manufacturers offer lifetime warranties for their aluminum fencing.
Aluminum fencing is not meant to conceal much of anything, so that's something to consider if you're interested in privacy or security. Of course, aluminum's other exceptional qualities (including low-maintenance, durability, versatility, etc.) are definitely worth looking twice at.
If you've researched all the fencing options out there, but you still don't know whether aluminum is the right choice for you, contact Stonehenge Fence for more information. We provide the highest quality aluminum materials for all your fencing needs. Our exceptional installers will complete your fence with precision, giving you peace of mind that your fence will fulfill the strictest of durability standards.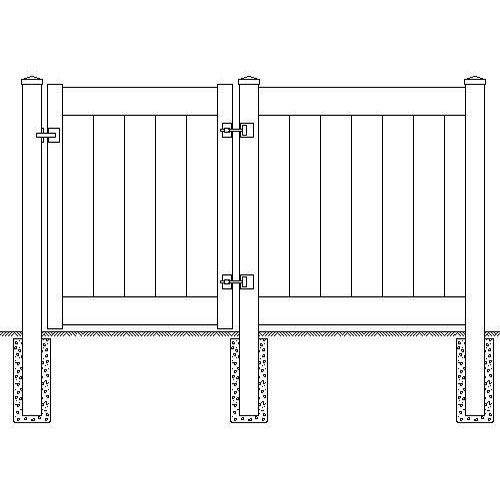 Industry Leading Strength
Lifetime Wind Warranty
Professional Installation
Sprinkler Protection
Quality Assurance
5-star Customer Service