Deer Fencing
In many states throughout the nation, deer have become an ever increasing problem. This may be due, in part, to people and deer living in such close proximity. Deer are becoming more and more comfortable around people, as well as adapting to changes in modern suburbia. Plus, our landscaped parks and properties provide easy access to food, shelter, and water, with little threat from predators.
While these animals are captivating to watch, their presence can be destructive. In rural areas, deer are a major cause of car accidents. Additionally, deer trample, eat, and strip plants in nurseries, gardens, vineyards, and residential areas. Some reports indicate that deer cause more than one million dollars in loss to agricultural properties each year in the United States.
Installing a fencing system is a proven way to protect your property and keep deer and other animals from causing damage to your garden or yard. There are a variety of deer fencing options available that are both humane and environmentally friendly. One of these options is a black polypropylene mesh that is strong, durable, and effective at securely deterring deer from your property. If you're worried about the fence being a visual blemish on your manicured landscape, let us assure you that it's difficult to see from a distance (and even as close as 15-20 feet), so it won't detract from the beauty of your yard or property.
Deer fencing from Stonehenge Fence is maintenance free, as well as being easy to install and designed to last for years. Deer fencing is usually around 7' tall to ensure that deer can't jump over it. The materials used are very durable, cost effective, and effective on virtually any property.
If you're interested in a higher level of protection for your property, Stonehenge Fence can offer other heavy duty solutions, to meet your deer fencing needs. The fact is, we produce the highest quality and longest lasting deer fencing in Utah. Our trained and experienced professional team of experts will install your fence with care to ensure its durability and longevity.
Ranch Rail
Traditionally, a ranch rail fence was commonly used for horse enclosures. They're still used on horse ranches today, typically with rails and posts made of wood. Often referred to as 3-rail or 4-rail fence, ranch rail continues to evolve with improvements in technology and manufacturing, offering stronger and more durable options, like vinyl, that resolve previous concerns with traditional ranch rail fencing materials.
While everyone loves the natural look of wood fencing, horses sometimes consider it a tasty treat and resort to snacking on it (cribbing). Vinyl fencing reduces incidents of damage caused by animals chewing on your wood ranch and rail. Ranch rail fences are also constantly exposed to the elements. Vinyl doesn't warp in the heat or cold. It's more durable than wood and superior to wire fences that are prone to breakage. As an added bonus, vinyl is virtually maintenance free, so you can spend more time concentrating on your animals and less time worrying about fence repairs.
So which materials are best for ranch rail fences? It's a matter of whatever works for you and your unique circumstances. Although wood and vinyl continue to be viable ranch rail options, modern technology continues to come out with new products that claim to be better than the latest and greatest fencing materials available. Some of these innovative options include:
Equine concrete fences – Precast concrete products that look like wood but are sturdier and maintenance free
Steel board fencing – A post and rail board fence made of galvanized, powder-coated steel; it has the aesthetic appeal of wood fencing but is stronger and more durable
Making an informed decision on your ranch rail needs will require some research. But Stonehenge Fence can help. We're the leaders in high quality ranch and rail fencing options. Because Stonehenge recognizes that livestock owners have unique needs, we're dedicated to building you a fence that will stand up to years of use and abuse. We know you can't afford to worry about a poorly constructed fence that could potentially cause major losses in repairs and animal injuries. That's why we're your best choice for ranch rail fences.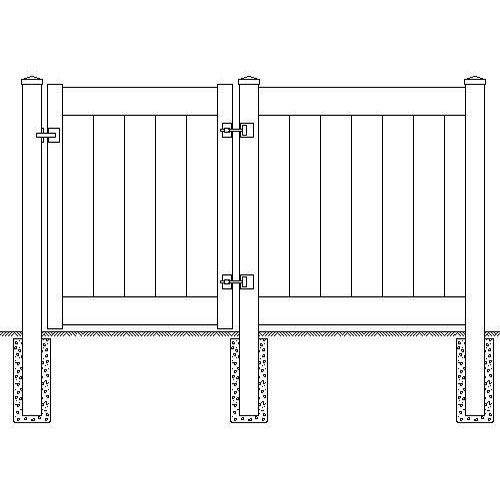 Industry Leading Strength
Lifetime Wind Warranty
Professional Installation
Sprinkler Protection
Quality Assurance
5-star Customer Service