High quality ornamental iron fences from Stonehenge Fence add an element of sophistication to your yard.
Prior to the Middle Ages, wrought iron was reserved for weapons and tools, but other uses for iron became evident by the end of the Medieval Period, as merchants and homeowners saw the protective benefits of using iron to cover doors and windows to keep out intruders and thieves. It was also during this period that ironwork took on a more decorative role. Today, visitors to Europe can still see early examples of decorative iron accents at some of the most famous cathedrals in England and Paris.
The trend in decorative iron became quite prominent in the 16th century, and by the 18th century, elegant iron gates and railings started showing up in the United States, most notably in the French inspired architecture and designs of New Orleans.
After hitting its peak in the 1860's, the popularity of wrought iron dropped as the availability of mild steel increased. While mild steel has many of the properties of wrought iron, including a low carbon content, it is easier and cheaper to mass produce. Thus, many of the gates, furniture, lighting hardware, railings, and ornamental accents made today are actually produced from mild steel, which still offers the same level of beauty, strength, and durability as wrought iron.
Used for fencing, iron has a historical and universal appeal that offers stability and elegance to any landscape. Professional contractors like working with iron because of its versatility. In fact, iron can be designed to compliment any home or business style, while adding a level of sophistication you just can't get from wood or vinyl. So whether you're worried about security, performance, or style, iron fencing is versatile enough to meet the criteria that will satisfy all of your home and landscape needs.
In addition to style and versatility, one of iron's best features is its durability. Iron can withstand harsh outdoor weather and climate conditions better than other fencing materials, and it's less likely, to scratch, peel, or chip. This means home and business owners will enjoy a great looking fence, without the maintenance, for years to come.
The craftsmanship and beauty of ornamental iron fences rose to popularity in America in the 18th century. Today, we continue to enjoy the elegance and security that iron fences provide. Twenty-first century iron fencing is at it's best, with a wide range of wrought iron products available to produce decorative fences that are low maintenance and built to last.
Stonehenge Fence provides the highest quality of iron fencing available in Utah. Contact us today for more information on the features and benefits of iron fencing. We'll help you make an informed decision about purchasing ornamental iron fencing that will stand the test of time.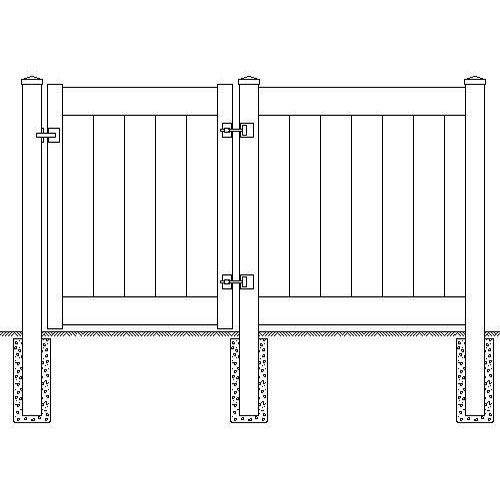 Industry Leading Strength
Lifetime Wind Warranty
Professional Installation
Sprinkler Protection
Quality Assurance
5-star Customer Service