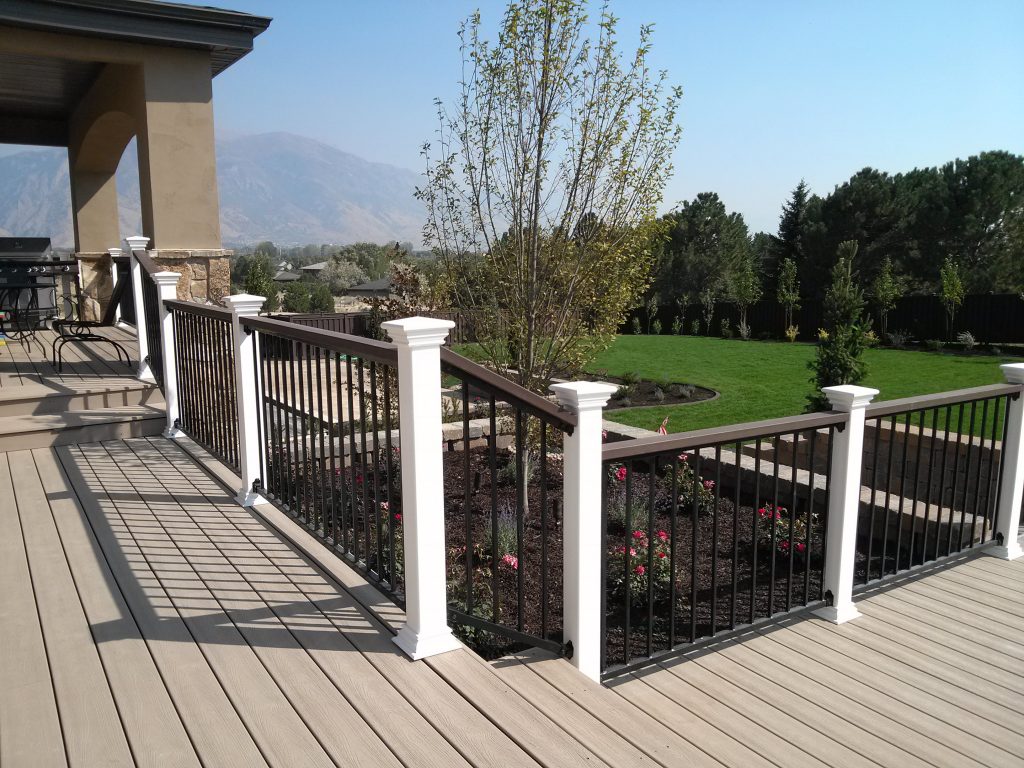 Composite Deck by Stonehenge Fence
Living in a tight-knit community, we've learned that quality fencing is a necessity. It not only adds curb appeal to your dwelling, but it offers privacy and security to your outdoor space. Fences can be constructed in a variety of ways, from DIY projects to professional installation. But before you tackle this daunting task, it is important to pinpoint the type of fence that best suits your budget, lifestyle, and desired end result. The problem is, there are a variety of fencing options to choose from. Should you splurge on a relatively low-maintenance vinyl fence or install a wooden fence that may require yearly upkeep? To help you make an informed decision, we've selected the most popular home fencing systems and put them to the test, comparing affordability, quality, and level of privacy. They are listed in order of lowest price and highest popularity within residential communities.
Chain Link Fencing
Chain link fencing comes in first place for the most common fencing used on residential and commercial property. This is due to its overall low cost and maintenance. Chain link fences are perfect for those on a tight-budget and require minimal upkeep and repair due to the sturdy, weatherproof nature of galvanized steel. Chain link fences do their job: they keep your family and pets in your yard and unwanted guests out. However, chain link fences are not the most attractive option out there and do a poor job providing visual privacy from nosy neighbors. A great way to make chain link fences more private is to add vines or bushes around the perimeter of the fence. Another option is to purchase chain link fence slats, which are vinyl strips that can be woven through the chain link to add privacy to your space.
Wooden Fencing
Wooden fencing is the second most popular option for American homeowners. Most families yearn for the "Home Sweet Home" vibe that a picket fence brings to their outdoor space. Therefore, opting for wooden fencing allows you to achieve this look without breaking the bank. Wooden fences also have a very versatile finished appearance because they can be sealed, stained, or painted. Applying a seal to your wooden fence allows the natural wood grain to show through while protecting the wood from warping over time. Using a stain on your fence can alter the wood tone to produce a more muted, vibrant, or deep tone depending on your desires. Lastly, a painted fence can give you the freedom to create an adorable white picket fence or to hand-pick a fun or bold color that matches your home. However, when choosing a wooden fence, it is important to remember that they do require regular upkeep and that every wooden fence should be sanded and either sealed, stained, or painted yearly to ensure that the wood does not rot or warp over time.
Aluminum Fencing
Aluminum fencing is a great option for the homeowner who craves minimalism. It provides an essential barrier without being too flashy or distracting from the rest of your yard. Most aluminum fencing is black, with thin and evenly spaced rails that give the home a clean, almost vintage appearance. This fencing type is not recommended for someone who is looking for the utmost privacy as the spacing between the rails is quite large. However, privacy can be added to these fences by utilizing landscaping techniques such as trees, shrubs, or vines; much in the way you'd tackle the privacy issue with a chain link fence. Aluminum fences are the third most popular fencing option because they are relatively cheap to install and they don't require too much maintenance. However, if you live in an area with severe weather, this fence may not be ideal for you. This is because aluminum is a weaker metal and may not stand up to harsh wind or snow storms.
Vinyl Fencing
Vinyl fencing is becoming an increasingly popular option for homeowners. This is because vinyl fencing is virtually maintenance-free and although it is created from relatively cheap plastics, it has proven to be quite sturdy. Vinyl fencing has a sleek surface which wicks away water and can therefore easily be hosed off or wiped down as needed. Vinyl fencing comes in a variety of colors and styles, so most homeowners look to vinyl for its variety of customizing options. Vinyl fencing does not require painting, and is therefore an extremely popular alternative to wooden fencing, achieving a similar look without the back-breaking maintenance. Vinyl fencing can be installed with any range of visibility in mind, and can therefore be as welcoming or private as the homeowner desires. There are a variety of different options for vinyl fencing that can also mimic other fencing types, which is another benefit of this product. One thing to look out for with vinyl fencing, however, is that it can become sun-bleached over extended periods of time. Some homeowners in dry areas have complained that the vinyl becomes weak and brittle from extended sun exposure, so this may not be an ideal fence for you if you reside in a hot, desert climate with full sun exposure.
Contact Us
REQUEST A FREE QUOTE
Stonehenge Fence & Deck
140 N 1200 W, Orem, UT 84057 (801) 607-5733
WHO ARE WE?
Since 2000, Stonehenge Fence has been installing beautiful, high quality fencing. We specialize in SimTek™, Trex®, TimberTech®, ornamental iron, cedar and vinyl fencing in Utah. We have emerged as Utah's premier fencing and decking company as we continue to develop an outstanding reputation for high customer satisfaction, top notch product quality, superior installation, and product variety. So click on one of the links below and find out how one of our fences can improve your yards look and feel.
HOW CAN WE HELP YOU?
Our customers come to us looking for a way to define their space with a high quality fence or deck that will last — and we don't disappoint. We offer a variety of decks and fencing options with several styles, colors, and variations. As our services have expanded throughout Utah and the Western United States, so have our products. Product focus has broadened to include not only top quality cedar and vinyl fencing and decking, but also SimTek™ fencing, Trex® fencing, decking & railing, ornamental wrought-iron fencing and railing, chainlink, and rustic wood products of all kinds. We pride ourselves in providing the highest quality product material offered by fence companies in Utah and throughout the industry. The quality of materials is an important factor for a good fence, however, a fence or deck is only as good as the professionals who install it. Our fencing and decking installers are the most qualified in Utah and will not accept anything but the best. We can ensure you will be satisfied! Contact us today for a free estimate on your project. Stonehenge Fence has great relationships with a number of different companies. All of these companies adhere strictly to the same fundamental principle of quality products and services. Furthermore, our products are built with strength, durability, and beauty as our top priority, and these companies are no different.