For over 20 years, Stonehenge Fence has been installing beautiful, high quality fences & decks in Utah. We specialize in SimTek, Trex, TimberTech, Iron & Vinyl fencing installations. Contact us today so we can help you get the fence that's best for you!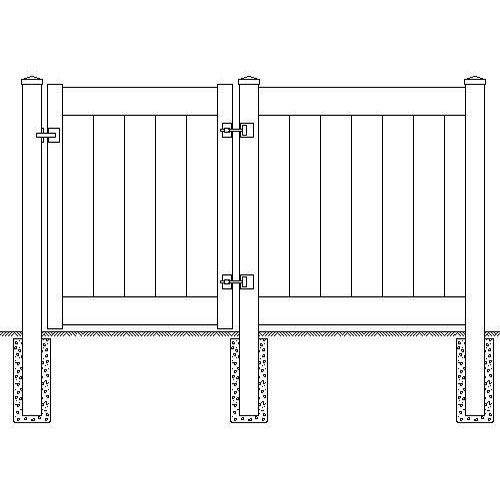 Industry Leading Strength
Lifetime Wind Warranty
Professional Installation
Sprinkler Protection
Quality Assurance
5-star Customer Service
Stonehenge Fence & Deck has the highest quality gates available on the market. By using thicker metal in our steel-welded frames and uniquely designed gussets for extra strength, our superior frame reduces sagging and improves gate function for the lifetime of your gate. A fence installed correctly won't have its panels scattered in the wind. Our fences are designed to withstand even the most blustery of days. If the wind manages to blow out your panels we'll come fix it free of charge.
Stonehenge Fence & Deck uses only the most reliable of materials, including Window Grade Vinyl created right here in Utah! All Mountain Peak products we use have a much thicker cap stock and use more Titanium Oxide than industry standard.
Sprinklers can pose many problems with fence installations – luckily, we have a couple of aces up our sleeves. The first is that if any of our crews run into issues with your sprinklers they will advise you on options for moving forward. The second is that accidental breaks are nothing to worry about: if we break it, we'll have it repaired.
Every crew is in-house, which means reliable quality. With every team having 10+ years of experience and being trained by a supervisor with 20+ years in the fencing and decking industry, you'll surely see the difference in the outstanding work done by our highly skilled professionals.
Have a question about your project? Please, give us a call! Any of our friendly & professional team members in the office can fill you in on the progress of your job simply by looking up the name your project is under.
Stonehenge Fence provides the highest quality vinyl fencing in Utah!
Vinyl fencing has taken its place as a viable and popular alternative to wood and chain link fence over the past twenty-five years. While the upfront cost of vinyl may be more than a similar fence constructed of wood, your initial investment will more than pay itself off when you consider the benefits associated with vinyl fencing.
Consider the Maintenance
Vinyl, or PVC, is virtually maintenance free. Almost five times stronger than wood, vinyl will last much longer than a wooden fence. Because most vinyl is the same color throughout the entire depth of the material, it maintains its appearance and therefore does not require painting or refinishing. Vinyl does not decompose and is rust free. Additionally, you can easily clean off your vinyl fence with a hose and some basic household cleaning materials. As an added bonus, vinyl is flexible and will not snap or break off as easily as wood. What does all this mean? When you purchase vinyl fencing, you're getting your money's worth from your initial investment…an investment that can potentially last a lifetime.
Select the Right Vinyl for Your Lifestyle
Whether you're interested in adding curb appeal to your home with a decorative vinyl fence, or you're concerned with the safety of your family or pets, there is a wide range of vinyl fencing products to choose from. A privacy fence has no gaps between the pickets and may feature an authentic woodgrain texture or the textured look of stucco. There are numerous colors and finishes to choose from that can further enhance the look of your fence. So, not only are you getting a stylish landscape accent, you're getting the ultimate solution to privacy from your fencing. Other vinyl fencing options include post & rail fences, typically used as animal enclosures, as well as fences for pools, and still more options for high wind conditions. Fencing contractors also offer customized fencing options like decorative picket fences. So whether you need a vinyl fence for residential or commercial purposes, you're sure to find one that will meet your unique preferences or requirements. The important thing to remember is that there are a variety of vinyl products available, from virgin vinyl to recycled vinyl. Make sure you do your research and select a high quality vinyl from a reliable fence contractor who has a long history of integrity and experience.
Vinyl Fencing Constantly Improving
With the ever evolving advances in technology, manufacturers are continually improving vinyl products, extending the service life of your fencing, reducing maintenance, and ensuring that it will withstand the elements.
Vinyl fencing is an excellent choice for homeowners interested in increasing privacy, constructing safe yard enclosures for their families and pets, and improving the overall look of their property. With the variety of vinyl fencing styles and colors available, you're sure to find the perfect choice for your home and landscape needs. Before selecting your vinyl fencing materials, conduct thorough research and don't forget to ask the manufacturer about special offers and warranties.
If you're considering vinyl fencing, contact the experts at Stonehenge fence today and let us help you make an informed decision about the fencing options that best suit your budget and lifestyle.
Get a Free Quote
WHO ARE WE?
Since 2000, Stonehenge Fence has been installing beautiful, high quality fencing. We specialize in SimTek™, Trex®, TimberTech®, ornamental iron, cedar and vinyl fencing in Utah. We have emerged as Utah's premier fencing and decking company as we continue to develop an outstanding reputation for high customer satisfaction, top notch product quality, superior installation, and product variety. So click on one of the links below and find out how one of our fences can improve your yards look and feel.
HOW CAN WE HELP YOU?
Our customers come to us looking for a way to define their space with a high quality fence or deck that will last — and we don't disappoint. We offer a variety of decks and fencing options with several styles, colors, and variations. As our services have expanded throughout Utah and the Western United States, so have our products. Product focus has broadened to include not only top quality cedar and vinyl fencing and decking, but also SimTek™ fencing, Trex® fencing, decking & railing, ornamental wrought-iron fencing and railing, chainlink, and rustic wood products of all kinds. We pride ourselves in providing the highest quality product material offered by fence companies in Utah and throughout the industry. The quality of materials is an important factor for a good fence, however, a fence or deck is only as good as the professionals who install it. Our fencing and decking installers are the most qualified in Utah and will not accept anything but the best. We can ensure you will be satisfied! Contact us today for a free estimate on your project. Stonehenge Fence has great relationships with a number of different companies. All of these companies adhere strictly to the same fundamental principle of quality products and services. Furthermore, our products are built with strength, durability, and beauty as our top priority, and these companies are no different.